The three trials of William Hone : for publishing three parodies; viz. The late John Wilke"s catechism, The political litany, and The Sinecurist"s creed; on three ex-officio informations, at Guildhall, London, during three successive days, December 18, 19, & 20, 1817; before three specialjuries, and Mr. Justice Abbott, on the first day, and Lord Chief Justice Ellenborough, on the last two days by Hone, William, 1780-1842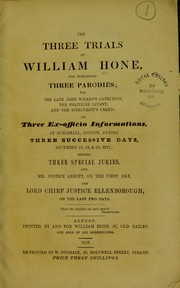 Published 1818 by William Hone in London .
Written in English
Read online
Subjects:
Publishing,
Libel and Slander,
Legal Proceedings
About the Edition
A collection of all three trials celebrating Hone"s innocence on charges of profane and seditious libel and upholding freedom of the press.
Edition Notes
Book details
Other titles
First trial of William Hone., Second trial of William Hone., Third trial of William Hone., Late John Wilke"s catechism., Political litany., Sinecurist"s creed.
Contributions
Royal College of Physicians of London
The Physical Object
Pagination
48, 45, 44 p. ;
Number of Pages
48
ID Numbers
Open Library
OL26248466M
Download The three trials of William Hone : for publishing three parodies; viz. The late John Wilke"s catechism, The political litany, and The Sinecurist"s creed; on three ex-officio informations, at Guildhall, London, during three successive days, December 18, 19, & 20, 1817; before three specialjuries, and Mr. Justice Abbott, on the first day, and Lord Chief Justice Ellenborough, on the last two days